By MWIS Ambassador, Mehmet Karatay
I want to share my thoughts and decision making for a winter outing I had as Storm Barra came calling. My intention is to give an example of how to plan a day around the weather forecast. I am a Winter Mountain Leader and summer Mountaineering and Climbing Instructor. I regularly have to make the most of a given forecast to try to give my clients a great day out.


The forecast
The first thing I'll say is that had Storm Barra been due to the Cairngorms a few hours earlier, I wouldn't have headed out. The MWIS forecast for the day stated:
Deteriorating: Storm force upland wind and snow afternoon.
A marked lull at dawn.
Progressively strengthening to 50 to 70mph by early or mid afternoon.
Any mobility becoming extensively very difficult and wind chill severe where exposed on higher areas.
Sudden ferocious gusts will reach some lower slopes.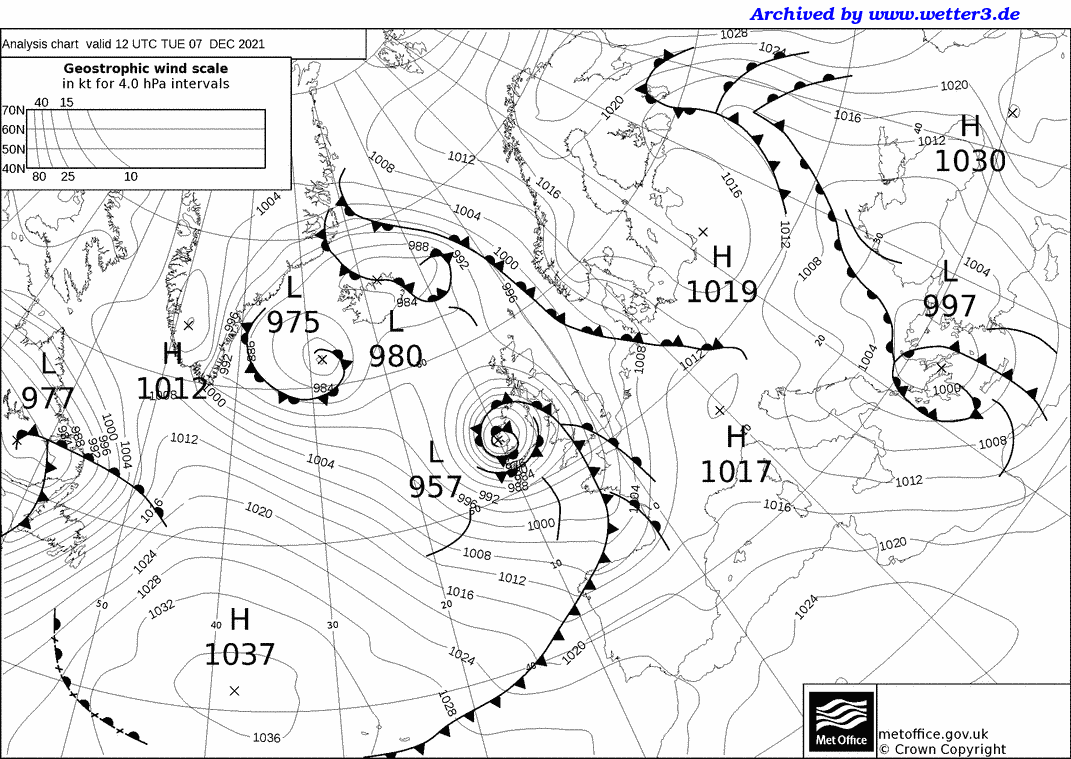 Storm Barra brought high winds, snow and rain as it moved across the UK.
This is a serious and potentially life-threatening forecast. A bit of research on timings later, and I realised that I would probably be okay to go out for a short day. My aim became to be back at the car by midday. A little earlier would give me nicer conditions, a little later would help me remember what winter is about, much later and I'd be in trouble.
I also found out that the winds were south-easterly. In the Cairngorms, that direction is notorious for drifting over the ski road to the point where the hardworking teams can't keep it clear. Being late back risked being stuck at the ski centre.
Key message: The worse the forecast, the more you should understand it.


PLANNING AND PACKING
My goal for the day is best summarised as a 'winter shakeout'. I wanted to get a feel for the conditions, even though I knew they were about to change, give my new boots an outing to make sure they were working for me, field test my crampon settings on the boots and hopefully get a chance to practise my poor-weather navigation. On top of that, I wanted to remember what winter was about, feel the wind on my face and remind myself of the type of things I chat to clients about.

Coire an t-Sneachda hours before Storm Barra arrived
My plan for the day wasn't very committing (hopefully) and there were plenty of places to cut my short day even shorter. It broadly evolved around going into Coire an t-Sneachda, cutting back across to the Fiacaill a' Choire Chais then up to 1141, over Cairngorm and down. If I needed to, I could turn around and walk out, drop down into Coire Cas from a number of places or come down Fiacaill a' Choire Cas.
I had no intention of getting into trouble but no one ever does. I went out prepared. Given the forecast, I packed more emergency equipment that I would normally take with me: more spare layers, a Blizzard pack on top of my usual shelter, some extra food and a few other bits and pieces.
Key message: Build in a margin for error and mishap. Don't over commit.
A benign start
The day started well and I was walking by 08:10. There was a team of climbers walking into the coire ahead of me and two teams behind. The snow was deep and often soft. In places, it held my weight just often enough to give me confidence before I sunk in and fell over.
There was more wind-scouring than I'd anticipated, which meant I could safely climb up to Windy Col instead of cutting back to Fiacaill a' Choire Chais. This had been my initial plan to reduce my exposure to avalanche terrain. Going up the flank of the coire gave me the opportunity I was looking for to test my new boots, get an ice axe into my hand meaningfully and enjoy a scramble over snowy rocks. I was about half an hour behind where I wanted to be, nothing drastic but worth being aware of.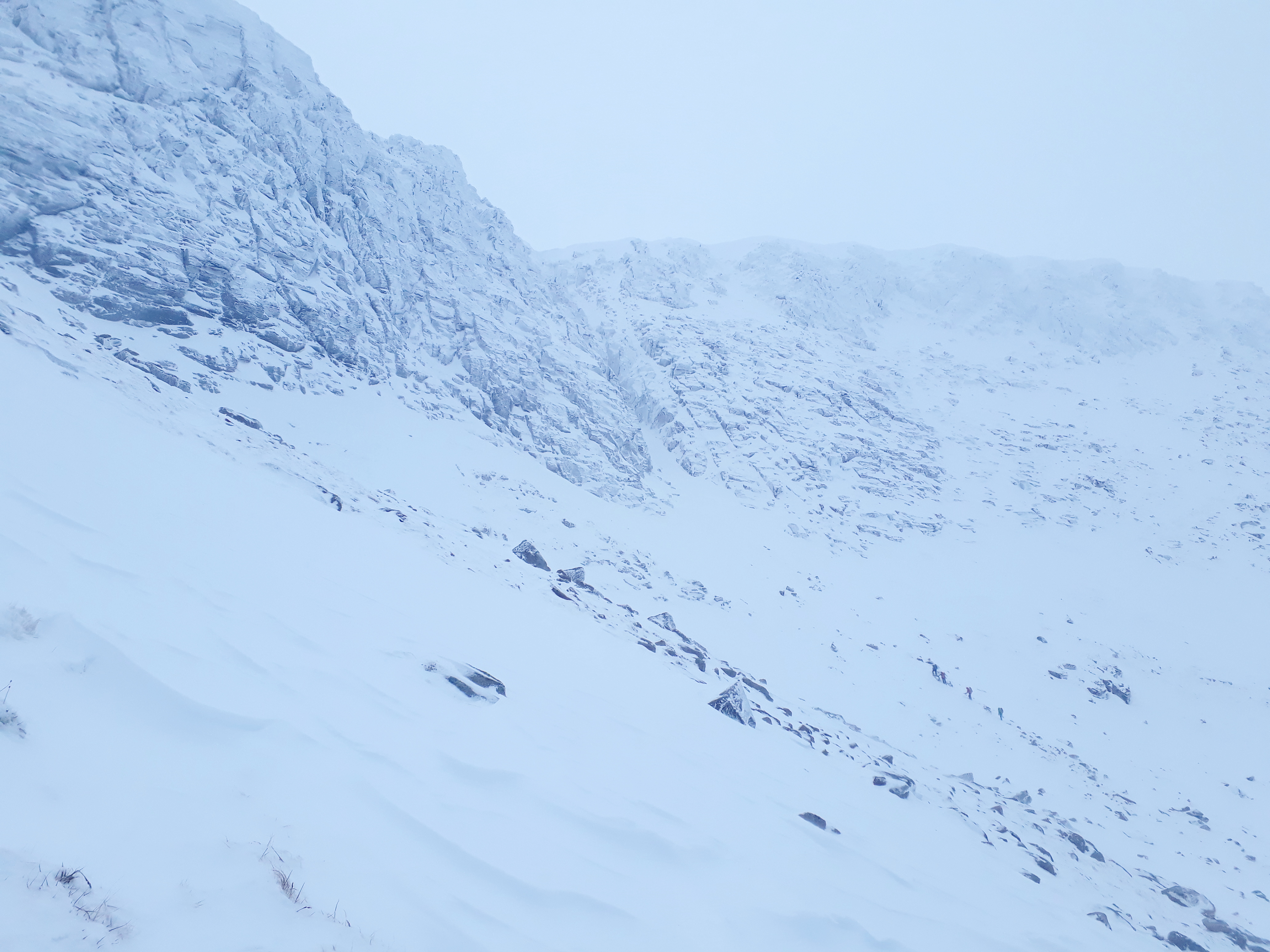 Two teams of climbers approaching the Mess of Pottage
Two teams of climbers, who started walking at a similar time to me, were reaching their gearing up points at the base of the Mess of Pottage as I was climbing out of the coire. I hope they were efficient in their climbing and chose routes well within their grade so they could move quickly. They were definitely quick and efficient in the walk in so chances are they were efficient in their climbing as well. Given the forecast, and its high reliability and confidence, the conditions were likely to turn atrocious within a few hours.
Winter climbers are used to be in out in poor conditions but this familiarity can lead to pushing the envelope too far sometimes. I'm not saying this was the case here; I'm simply sharing my generic thoughts about mountain safety. It's always worth being aware of the human factors when making decisions in risky places. If you're not sure what I'm referring to read, learn and understand about 'heuristic traps'.
Key message: Be aware of human factors in decision making.
Winds increasing
By the time I reached the plateau, the winds had started to increase and there was now drifting snow around my ankles. This means a minimum wind speed of 15 mph and it felt more like 20. Slab would now be forming on lee slopes and the likelihood of slab avalanches increasing. I'd need to take that into consideration if I changed where I was planning on going. All the summits around me were still clear and the light definition okay. These conditions made navigation straightforward.
The plateau was a good time to put on crampons. Even though I didn't feel I needed them as the snow was still soft, I wanted to remind myself what it's like putting them on in inclement conditions as part of my shakedown. I also wanted to check they work well with my new boots and remind myself of how to walk efficiently with crampons. After years of practice it felt second nature.
The wind soon picked up and the wind chill on my face was bitter. Perhaps it's because I'm not acclimatised to winter yet, but the cold was hurting my face much more than normal. Goggles and my balaclava sorted that. A key mantra in winter is to 'Be Bothered'. If you think something needs doing, attend to it instead of giving into laziness. This takes practise. The more you practise 'Being Bothered' the more you will 'Be Bothered' to get things sorted when it matters the most.
Key message: Be Bothered! The less you feel like doing something the more likely it is you need to take action. This takes practise.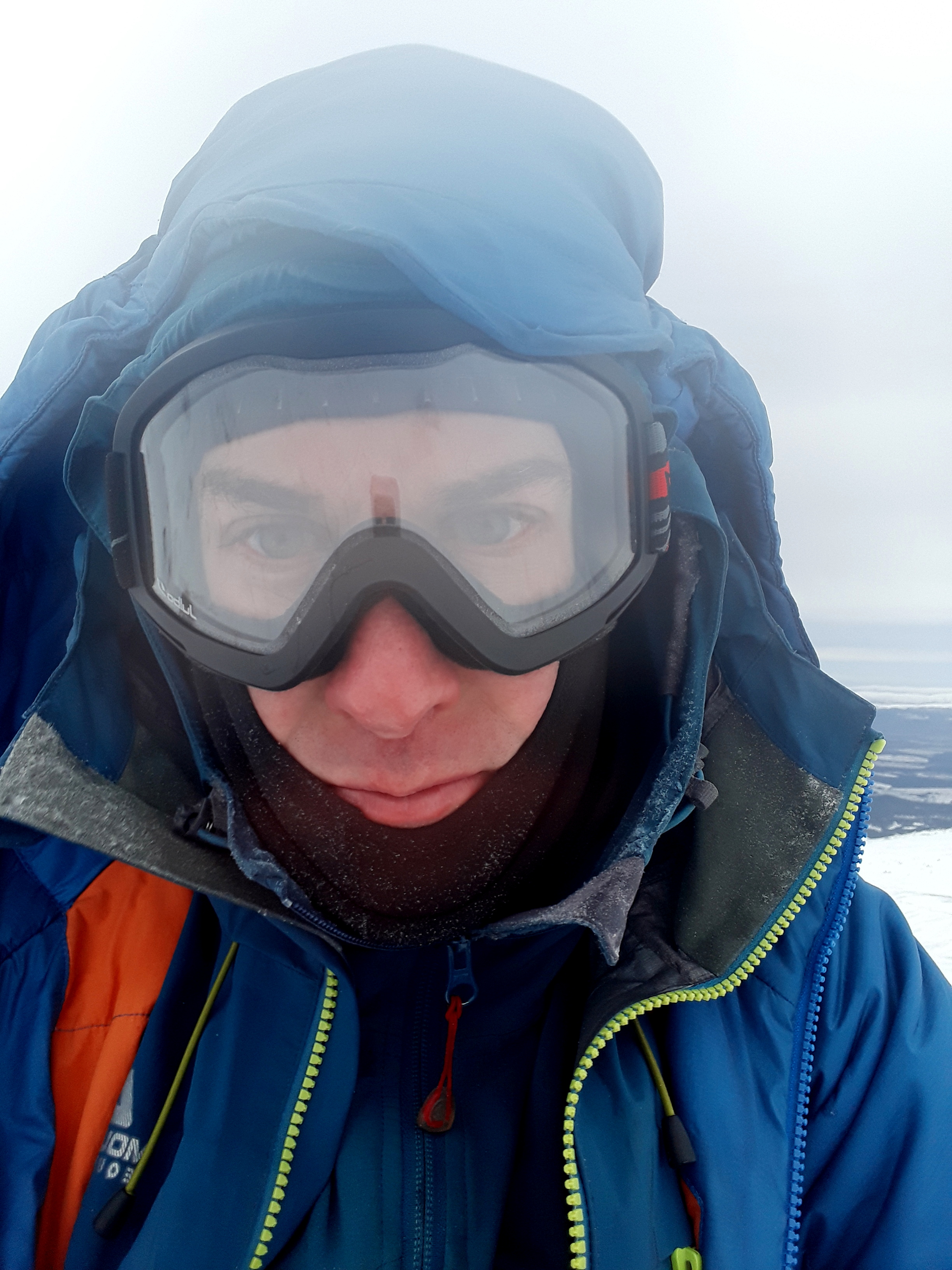 Goggles and a balaclava removed the extreme windchill on my face which meant I had the headspace to look around and observe the conditions, letting me make better decisions.


Storm approaching
Once I was happy again I could look around. What I saw were signs of the approaching storm. Storms look benign from a distance but are nasty from within. What I saw looked pretty but I knew once it came it would be serious and unpleasant. I decided to keep an eye on how quickly the clouds were approaching but didn't feel the need to shorten my day.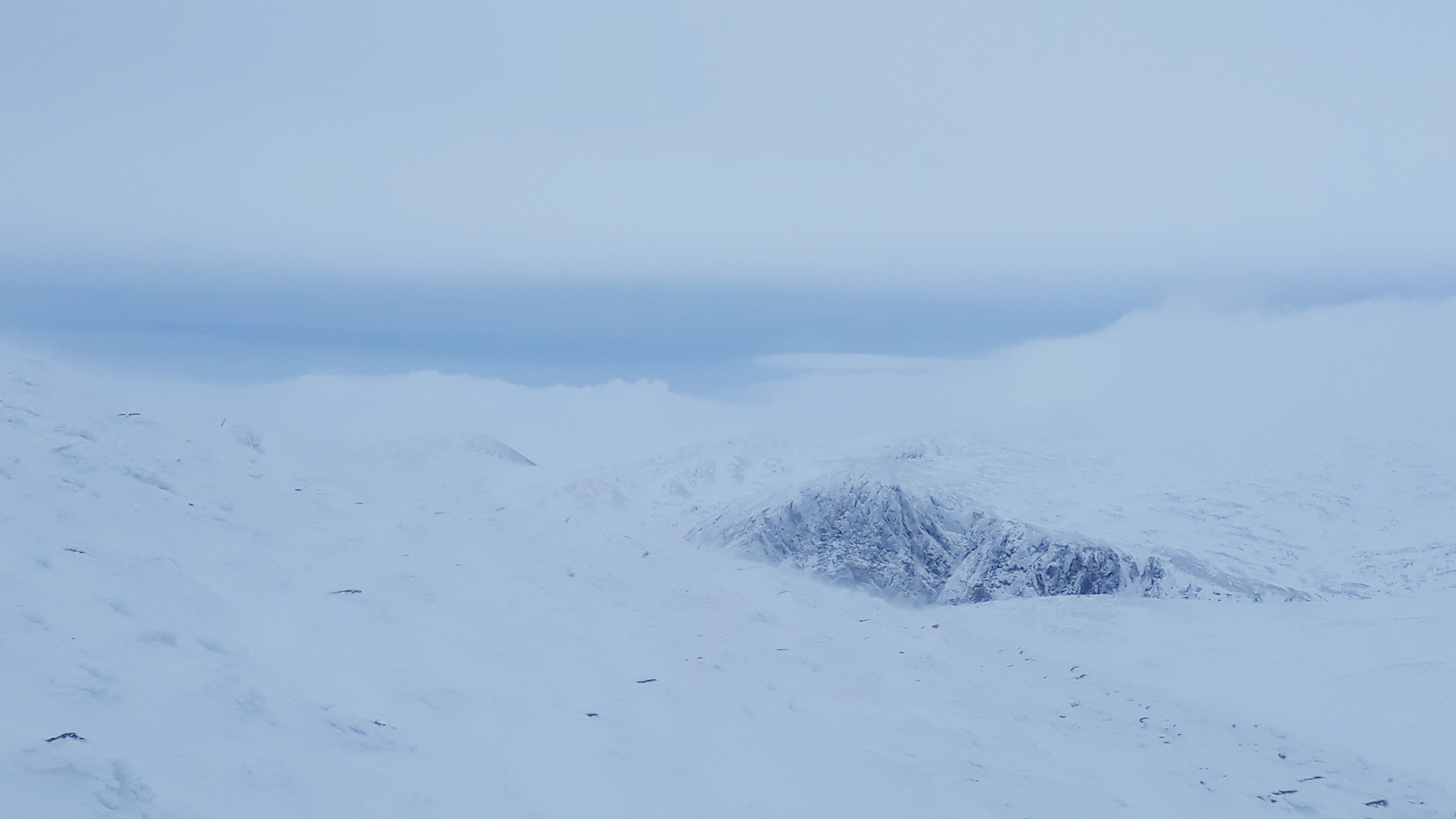 Storm clouds hugging the southern Cairngorms and a lenticular cloud showing high windspeeds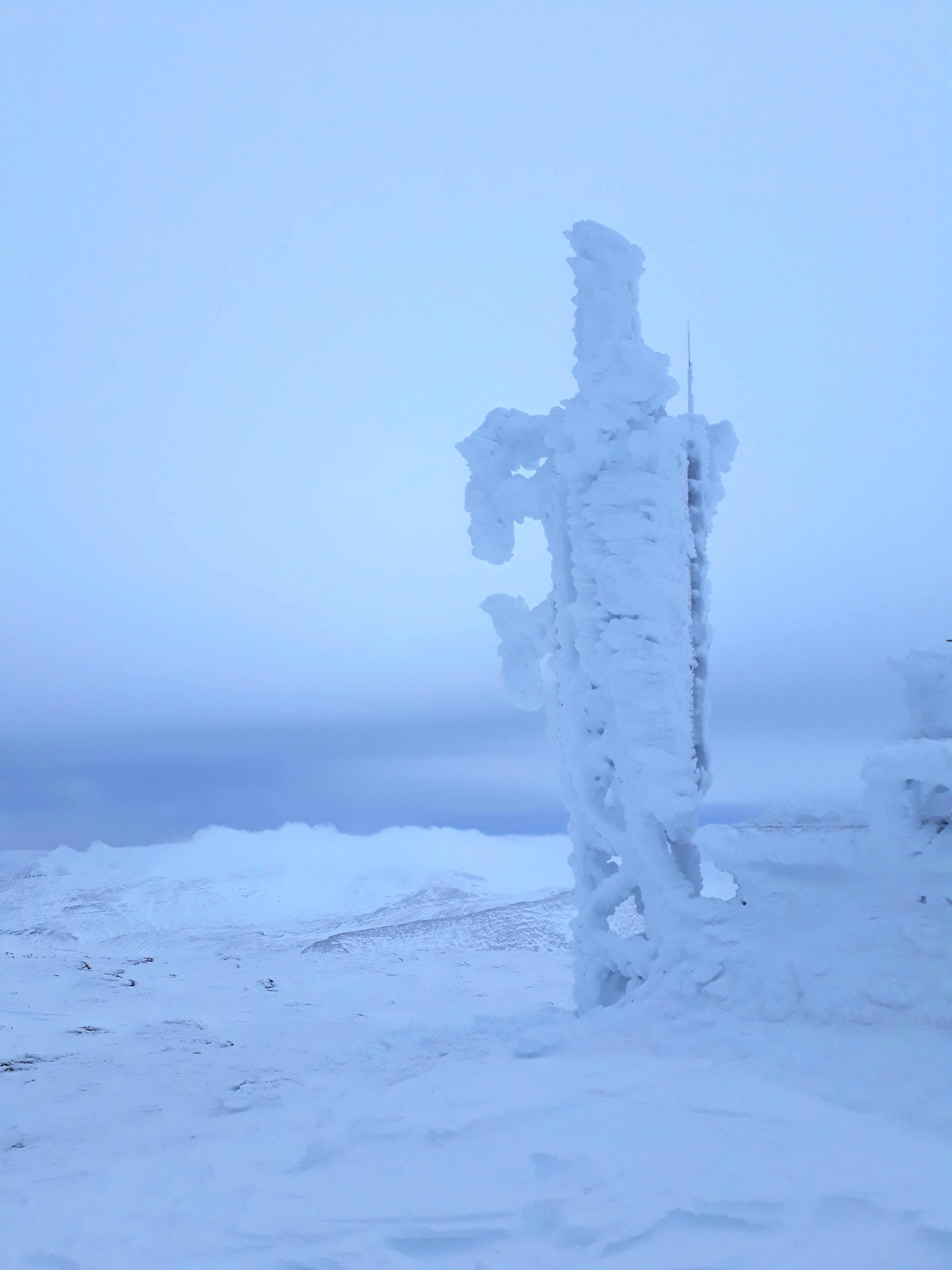 By the time I'd climbed up Cairngorm, the storm clouds in the south were getting nearer
The clouds weren't rushing in but they were definitely getting nearer. At the Cairngorm summit, I thought that if I wanted a pleasant day out getting down as quick as I could should be my priority. I was out for a winter shakedown however so a little bit of bad weather, especially if I was nearing civilisation again, wouldn't be a bad thing.
I modified my initial plan and headed to the nearby tor and from there dropped down to the bottom of Ciste Mhearad and up Cnap Coire na Spreidhe. Getting down from there shouldn't be too far but it may not be easy. My main concern with this new plan was whether the ski road would still be open by the time I needed it. If I misjudged it, I could always walk down to Glenmore. At least I had plenty of food and warmth with me to keep my energy levels up if it came to it.
As I dropped down towards Ciste Mhearad, I kept an eye behind me and was surprised to see that Cairngorm summit was now in cloud. The weather was coming in sooner than I expected.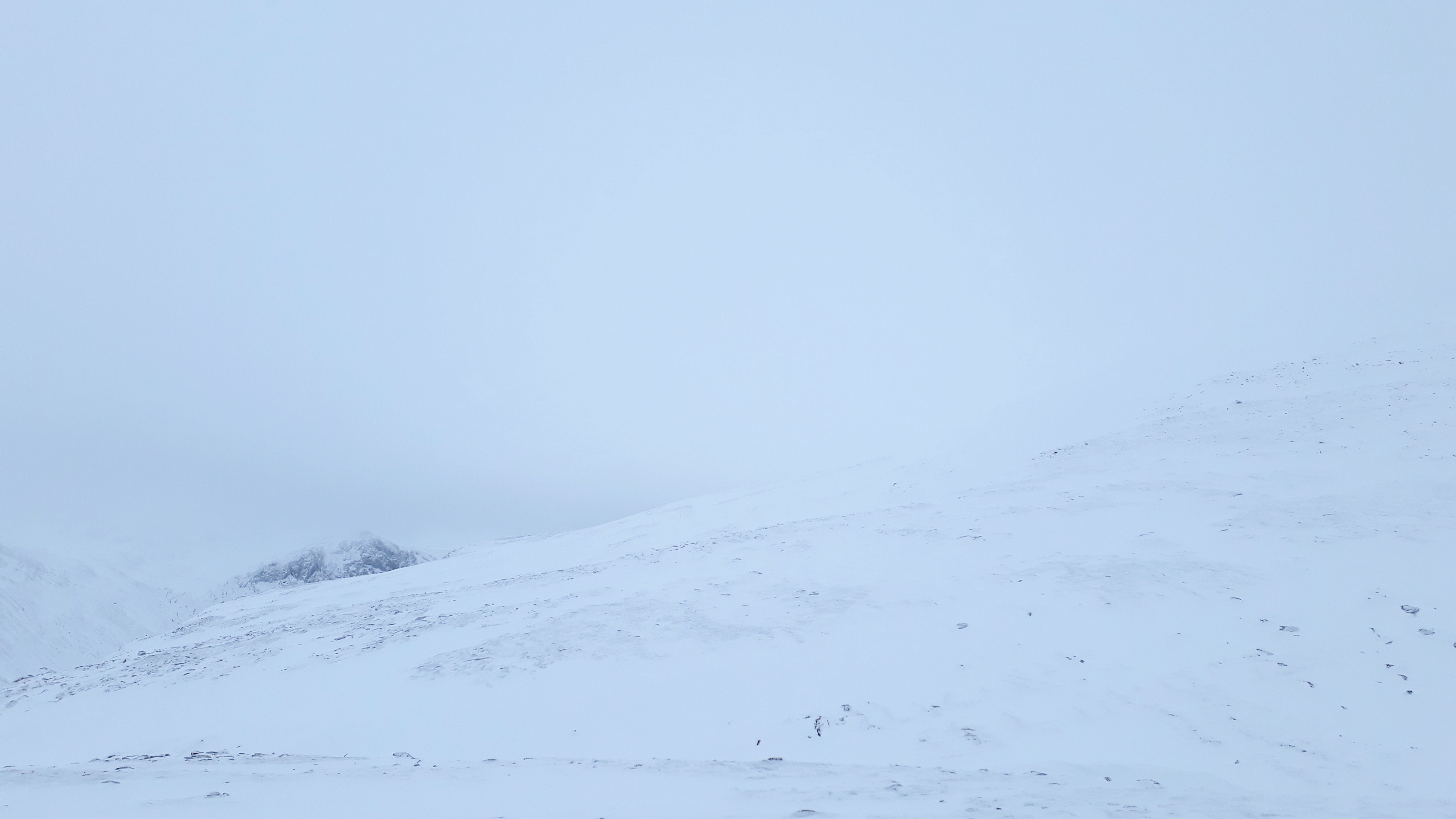 Looking back at Cairngorm, I was surprised to see that the weather has deteriorated as much as it had so quickly
Key message: Looking after yourself well means you have the mental bandwidth to understand what's going on around you, buying you time to react if needed.


In the thick of it
Soon, I was in cloud and head-height drifting snow. The wind speed was around 30 mph with squalls of 40 mph. The forecast was for it to get much worse, and I was wondering how the climbers were getting on. They should in theory be sheltered on the cliffs, but the south-easterly winds have a habit of whipping around, coming in from the northwest into that coire. This is something I found out from experience one August by being blown off The Magic Crack, a classic rock climb. I've since found out it's a well-known local weather phenomenon.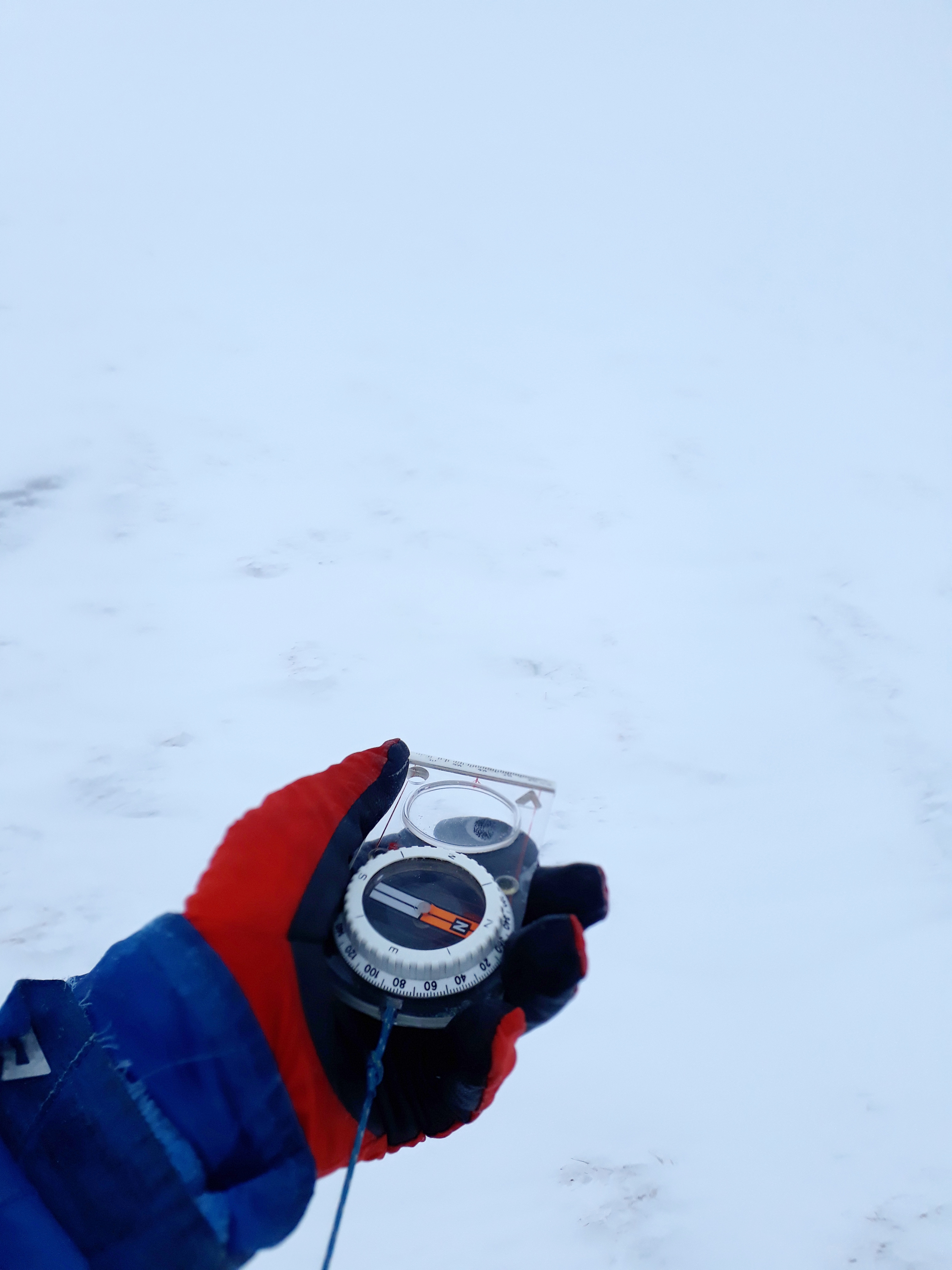 Time to get my navigation practice in. At least there are still features to aim for.
As I headed off, I was never in a true white-out but it wasn't far off. Luckily there was just enough sticking out of the snow to sight on for bearings. The light was very flat and I fell over multiple times as I stepped off, or into, ridges of sastrugi or larger drifts.
A fleeting glimpse of the ski infrastructure showed me I was nearly there, but given the conditions even that soon disappeared. Sometimes the area around the Ptarmigan restaurant, which is at 1100 m above sea level, can be very confusing to navigate through. There are a plethora of large, unmapped snow fences which block the way and it's best to avoid walking on anything that's been pisted to maintain good relations with the ski centre.
Key message: You need to be confident with navigation in poor conditions, even if you don't intend to be out in such conditions.
A final challenge
These obstacles safely negotiated, I was soon at the Ptarmigan restaurant. From here I had a choice: Do I go down Windy Ridge, which as the name implies is often windy, or do I drop into the hopefully more sheltered Coire Cas? Windy Ridge can get strong gusts to low levels, and low-level gusts were forecast. Winds were already often 40 mph. Coire Cas, because it's more sheltered, is likely to be a deposition zone. This makes the going physically harder and, if locally steep enough, avalanche prone. I chose the hopefully wind-scoured Windy Ridge and started trying to find the path down. This involves finding the gaps through several snow fences without being able to see much. No matter how many times I come here I always seem to suffer from a lack of confidence in finding the path in bad weather.

The Ptarmigan restaurant at 1100m as Storm Barra starts coming in
I often find the Ptarmigan restaurant gives me false hope. By being close to human-made infrastructure and, in summer, an excellent path, the car park feels deceptively near. In poor conditions, it's still a serious location and the navigation away from it would be more straightforward if there weren't unmapped obstacles everywhere to avoid!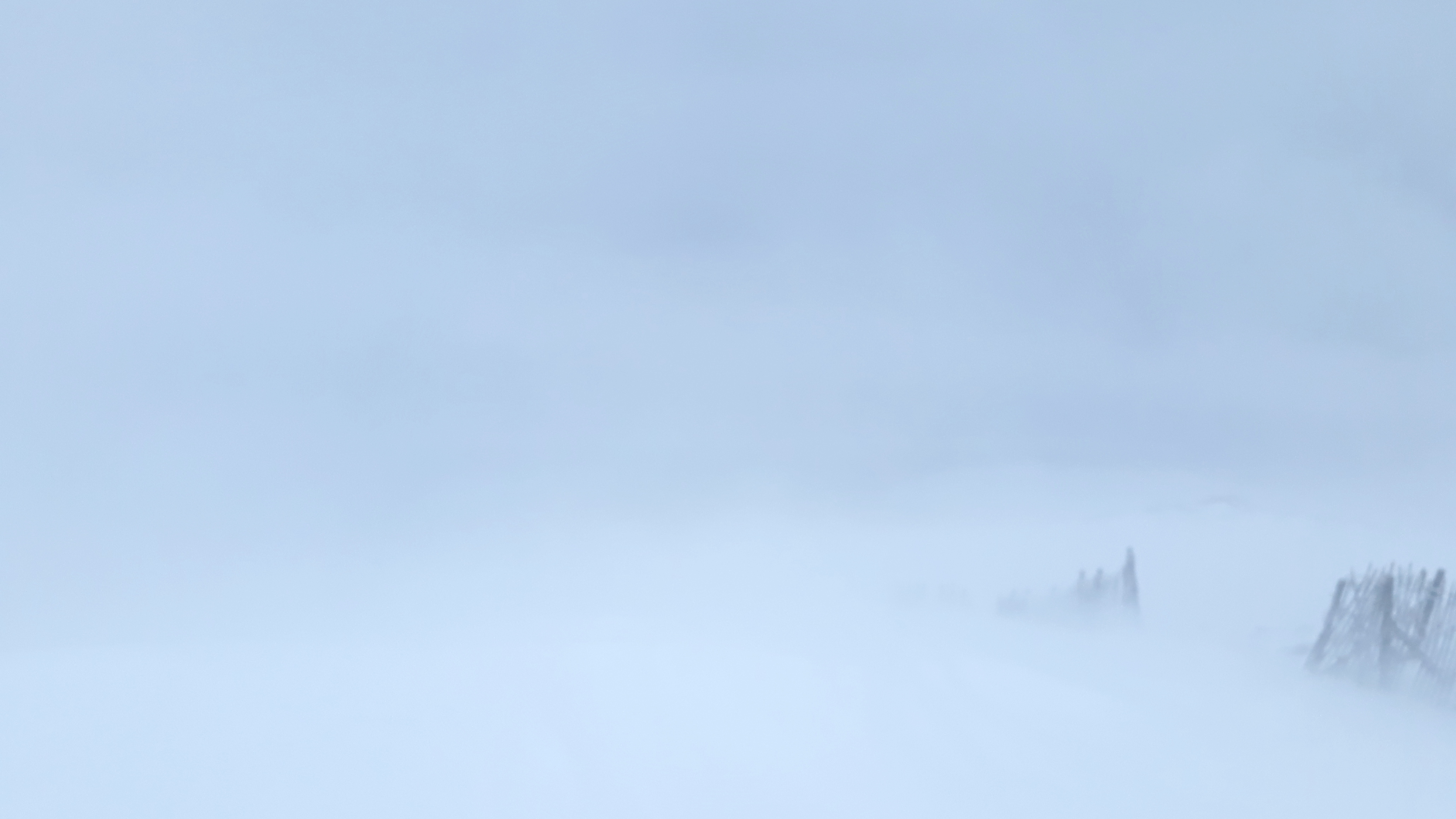 A gap in the snow fence and an insider's view of the storm clouds I saw over the southern Cairngorms
Key message: It's not over while you're still on the mountain
Road closed
A while later, I was at the car park and soon driving off the hill. The gritter team was working hard but it was a losing battle. By the time I was in Glenmore the snow gate was shut and the staff at Cairngorm Mountain were preparing to evacuate. A few hours later the road was impassible. Six cars were still left at the upper car park, including at least one belonging to the climbers that I had seen. I hope everyone got off the hill safely and enjoyed their own experience of Storm Barra.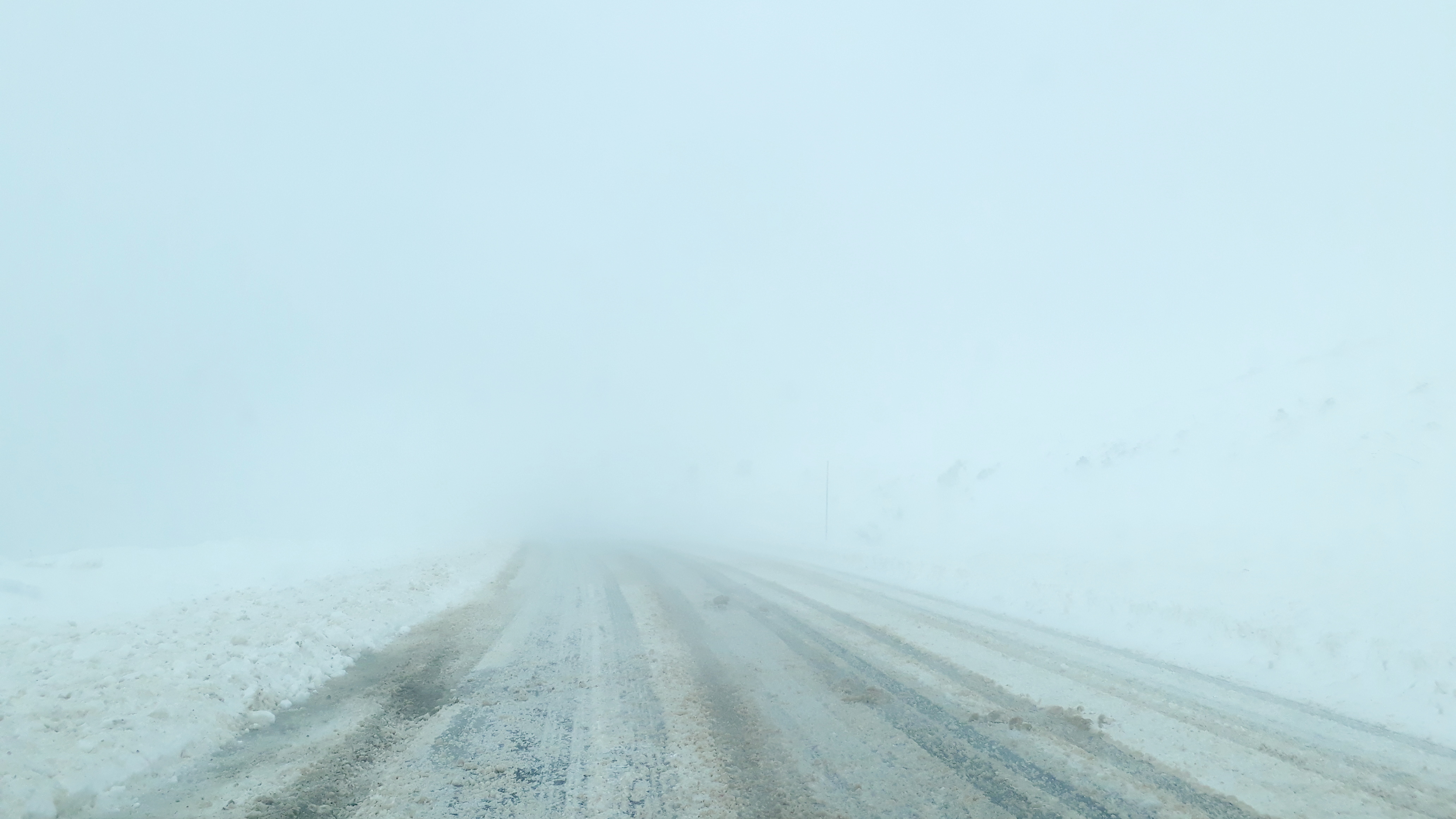 The ski road a few hours before it was closed. In a south-easterly wind, this road is notorious for drifting over. You don't need fresh snow for this to happen, although there was plenty of that too.
Key message: Remember to think about likely travel conditions when planning your day out. The forecast isn't just for when you're out in the mountains.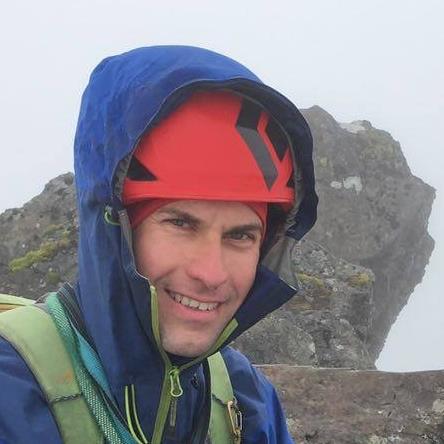 MEHMET KARATAY, Northern Aspect
Mehmet is a Mountaineering and Climbing Instructor (member of the Association of Mountaineering Instructors), Winter Mountain Leader and Orienteering Coach. He is based in Newtonmore, in the Cairngorms National Park. Mehmet will help you increase your independence in the mountains. You'll understand more about your surroundings, including the weather, along the way. He can take you on fun-filled walking, scrambling or climbing adventures anywhere in Scotland. www.northernaspect.co.uk.