Hillwalkers reminded to pack their torches and brush up on navigation skills as clocks go back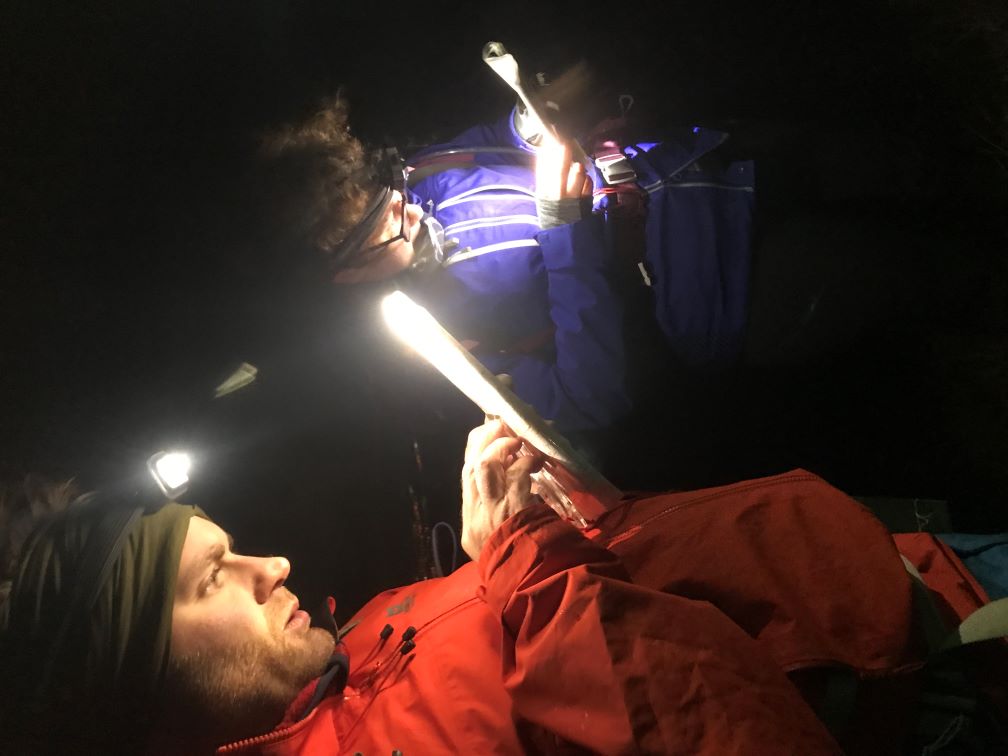 As British Summer Time officially ends on Sunday, marking the arrival of shorter, colder days, Mountaineering Scotland are reminding mountain-lovers to pack a headtorch (and a spare) before heading out into the hills this winter.
Ross Cadie, Senior Mountain Safety Advisor at Mountaineering Scotland, said: "With the clocks going back on the 29th of October, it is a timely reminder of both the joys of mountain adventures in autumn and winter, as well as the need to go prepared for rapid changes in conditions.
"Making sure that you have a fully charged, good quality headtorch is vital. And, if you are expecting or planning to spend time out in the dark, either with an early start or a late finish, then having a second headtorch, and spare batteries, would be an excellent idea.
But it's not only a headtorch which is an essential addition to any hillwalker's kit this season. Ross explained: "This season brings colder, wetter and windier weather, so packing that extra warm layer and adding thicker, better waterproofs will make life more comfortable and enjoyable when out on the hills and mountains.
It's also important to prepare in case anything should go wrong, including adding emergency supplies to your backpack. Ross added: "Having things in your bag that you can use to look after yourself is really important too. The colder weather means that you will need to have items that can keep you warm and sheltered from the elements if you need to wait for help. I would suggest carrying a group shelter, extra warm layer, a spare hat and pair of gloves, and a bothy bag, as well as the usual first aid kit, phone and whistle."
Donald MacRae, Vice Chair of Scottish Mountain Rescue commented: "The winter months can be a fantastic time of year to get out into the mountains, however it can present greater challenges. Make sure you are well equipped and know how to use kit such as an ice axe and crampons. Check the weather forecast, think how the weather will impact on your day, there is nothing wrong in turning back. Ensure someone knows where you are going, what time you expect to return and what to do if you do not return.
"Please remember that if you are lost, in need of assistance or in an emergency in the mountains, dial 999 ask for POLICE then MOUNTAIN RESCUE. In winter, the sooner we are contacted the better. Our volunteer teams will assist any hour, any day, any weather."
Being able to navigate safely off the hill is crucial at any time of year, but particularly during the autumn and winter months when conditions can be difficult and your chances of having to navigate in the dark are much higher. Mountaineering Scotland offer Night Navigation courses throughout November, which provide essential skills for navigating safely in the event of being caught out by short daylight hours. To find out more, visit: www.mountaineering.scot
About Mountaineering Scotland

Mountaineering Scotland is the membership and representative organisation for hill walkers, climbers, mountaineers and ski tourers in Scotland, with a membership of 16,000 individual and club members and 150 affiliated clubs. We aim to inspire and encourage people to enjoy the benefits of walking, climbing and ski touring and provide information and skills training to mountain users to promote safety, self-reliance and responsible access in Scotland's mountains and climbing venues.