By MWIS ambassador Richard Davison:
Mountains can have a big influence on the strength and direction of the wind and this, in turn, can have a big influence on us.
Beinn a' Ghlo is our local big mountain, being only a few miles north of Pitlochry in Perthshire. Its name comes from the old Gaelic word glo, meaning veil or hood, which suggests a cloud-capped summit. The massif often has clouds on it when other nearby mountains don't. On this occasion, though, the hills weren't cloud-capped but they were experiencing very strong winds.
On Thursday 18 March, we decided to have a walk up Carn Liath (975m) which is at the SW end of the massif. If you don't want to do the whole massif, there's a good circuit you can do which takes in Carn Liath and goes to the col before the second of the three mountains. From there you can descend and pick up a good path which takes you back round the mountain.
The weather over the last few days has been quite settled, with warm temperatures (16ºC in Blair Atholl) being pulled in around an area of high pressure. The forecast was for fine weather but with a strong WNW wind high up, easing a bit through the afternoon. The wind was described as making walking a bit difficult at Munro height.
The wind at the start of the walk (at about 400m) was breezy. The clouds appeared to be stationary and with a tendency towards forming as lenticular clouds – which are a good indication of strong winds at high altitudes. These clouds look quite smooth and have sharp edges and pointed or curved ends. I have seen them form into layers, often described as a "pile of plates".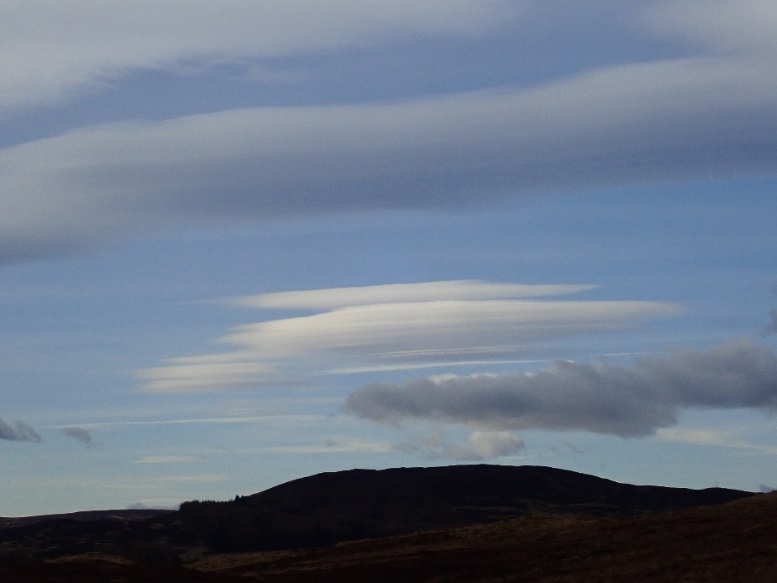 Clouds forming near Carn Liath, Perthshire © Perthshire Treks
The wind increased as we gained height. Towards the summit, it could be described as "blowing a hooley", with progress becoming very arduous and, at times, dangerous. It was impossible for us to keep upright – we are both fairly light – and sometimes progress was only possible by crouching down and walking "crab-like". The wind speed was touching somewhere between 45 and 50mph, with some gusts stronger than this.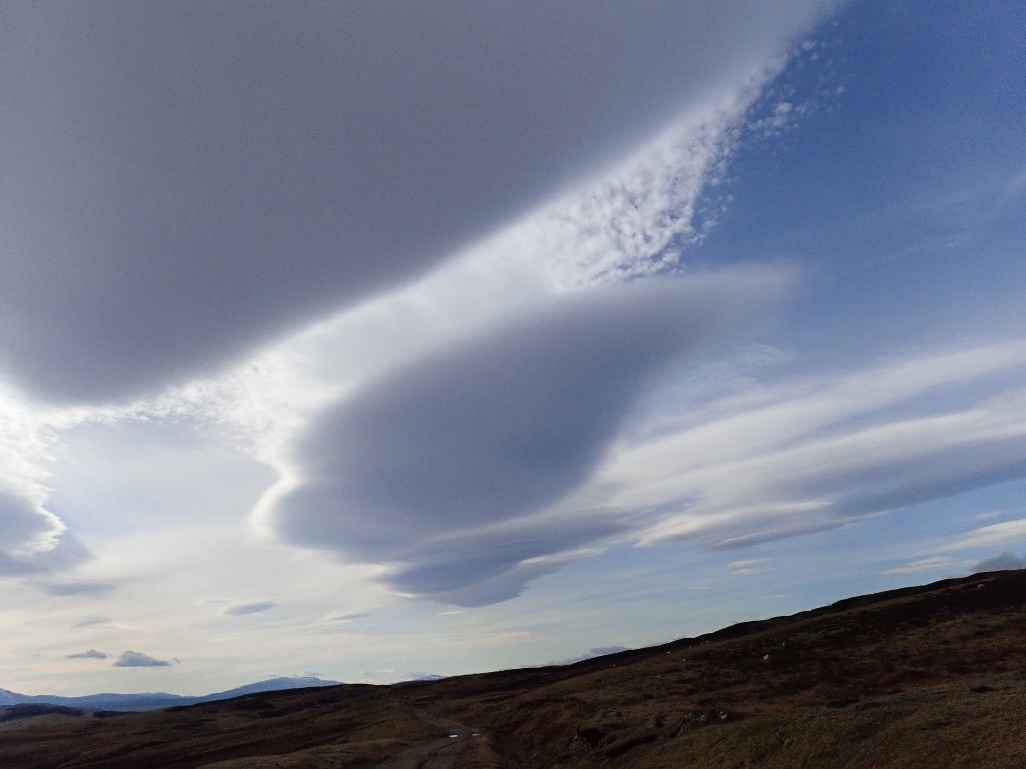 Stationary clouds above Carn Liath, Perthshire © Perthshire Treks
After quickly eating some food in the lee of the summit cairn, we decided to go down the hill rather than continue along the ridge. However, we didn't fancy walking down the new path up the shoulder of Carn Liath – too many stones and sharp edges if you did fall over! Another factor was wind chill - although the temperature in Blair Atholl was 16ºC, a wind speed of 50mph coupled with a lower temperature at 900m altitude meant it was cold!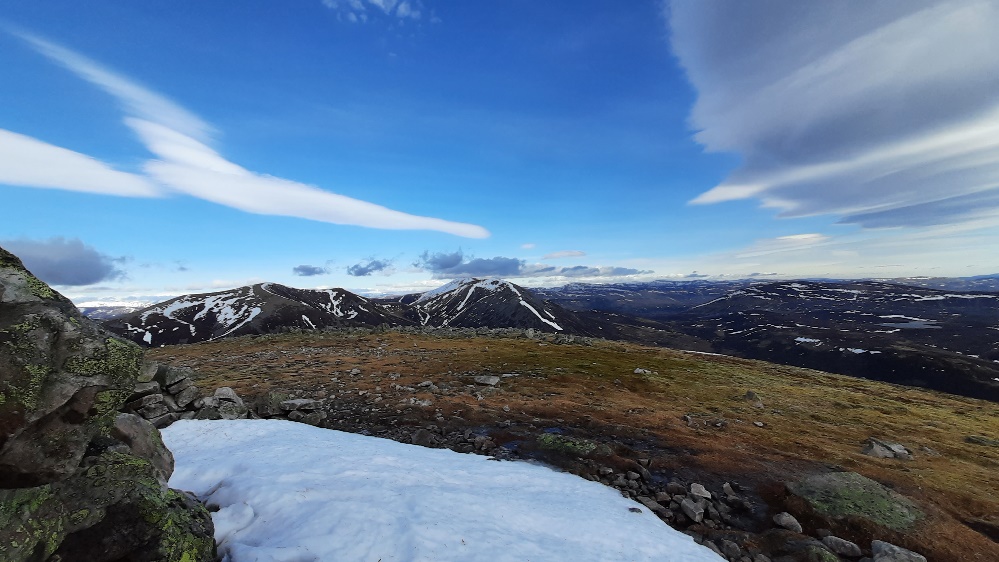 Clouds above Beinn a' Ghlo, Perthshire © Perthshire Treks
Given these factors, we decided to take a straight bearing off the summit and head eastwards to lose altitude as quickly as possible. The wind was coming from a more northerly direction here so it wasn't easy at first. We avoided stones as much as possible and searched out shallow gullies. We made it down and found a sheltered spot for some more food. On the walk back, it was clear that the wind had picked up and was changing direction.
Beinn a' Ghlo is quite a smooth hill and it forms a barrier to NW winds (as it runs from SW to NE). This sort of terrain can substantially increase wind speed – the wind becomes compressed (a southerly wind over the summit of Cairngorm is a classic example of this). The wind can change direction as it comes around parts of the mountain.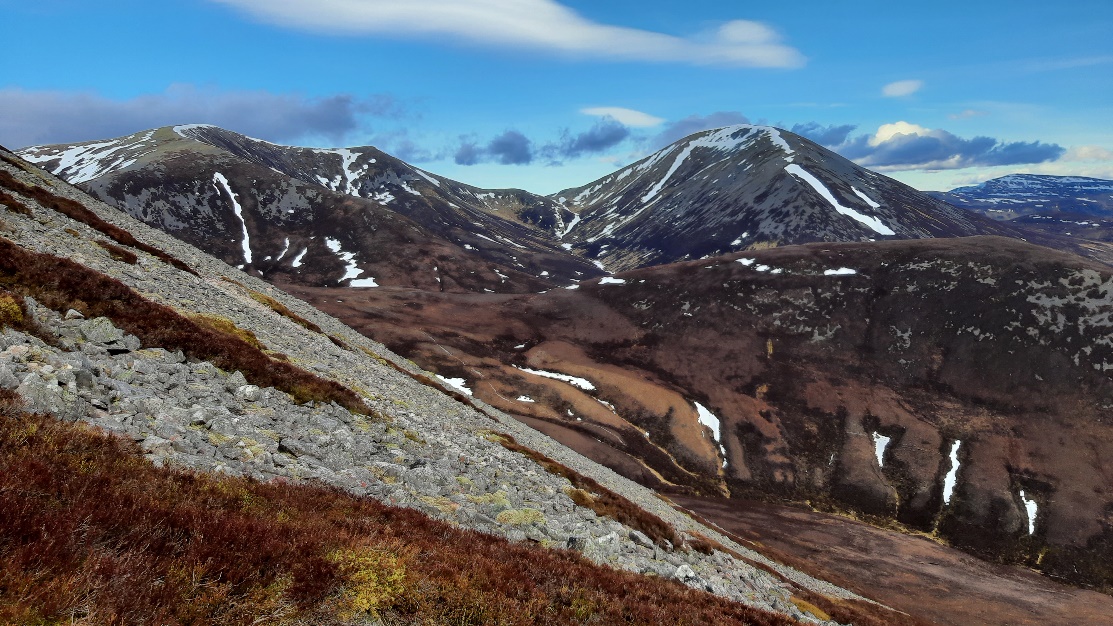 Carn nan Gabhar from Carn Liath © Perthshire Treks
If you get caught out with the wind being stronger than forecast (and it doesn't take much to move from arduous to difficult to dangerous), here are some tips on how to cope:
Be prepared to change your plans for the rest of the walk. In this case, we decided not to go along the ridge but to lose altitude on the more "sheltered" side of the mountain and to avoid a stony path.
Walking in very windy conditions can be exhausting, so remember to eat as you go.
Don't rush – take your time and avoid stones and rocks if at all possible.
Navigation becomes very challenging. Find some shelter or put your back to the wind and sit or go down on one knee to provide a more stable platform for reading the map and taking a bearing.
Make sure that everything is secure. A strong wind can catch anything and can even pull something out of a pocket on the rucksack – on this walk, we lost a sit-upon that was tucked into a rucksack pocket!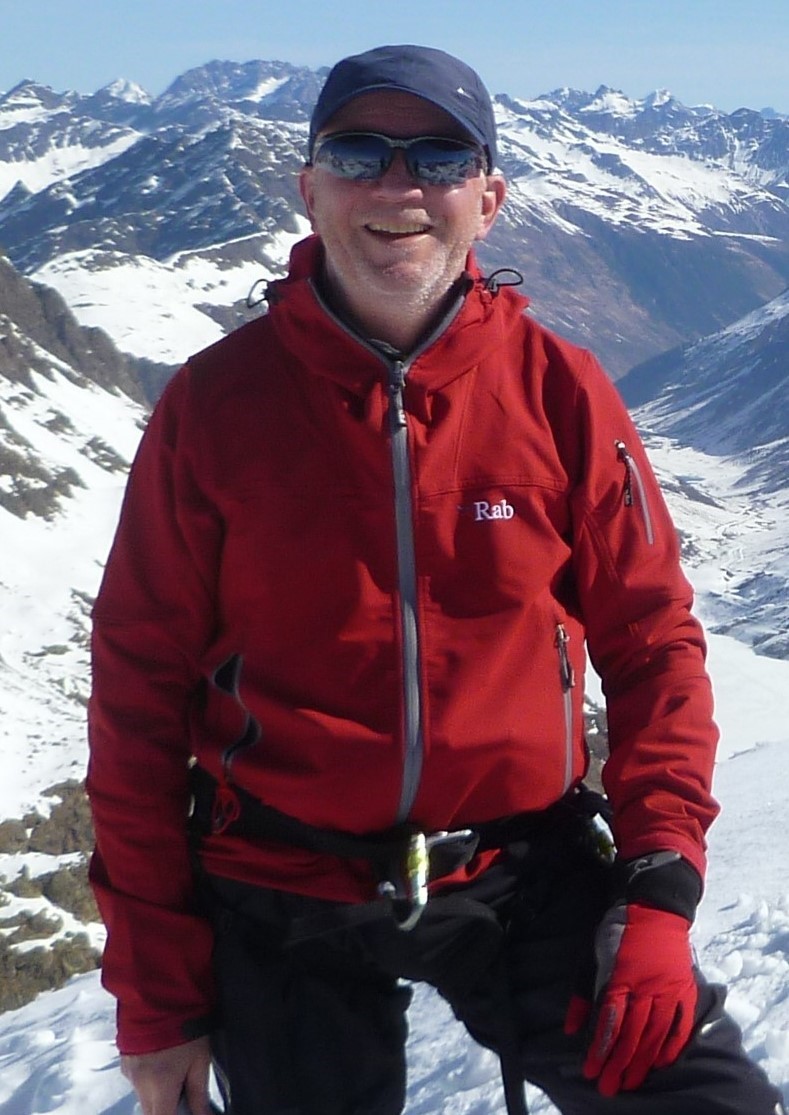 Richard Davison, Perthshire Treks
Richard has been exploring the mountains and experiencing mountain weather for over 40 years. He did a PhD about snow supply in the Scottish mountains and remains fascinated by summer snow patches. He's also interested in how climate and the environment has changed in Highland Perthshire since the last Ice Age. After almost 30 years with Scottish Natural Heritage, where one highlight was writing the Scottish Outdoor Access Code with the national Access Forum, he set up Perthshire Treks with his wife, Brenda Clough. Perthshire Treks provides great walking adventures with a focus on small groups in Highland Perthshire. Find out more about us at www.perthshiretreks.scot.